Jessica Taylor Yates
RuPaul's Drag Race Down Under: Review
Come on, Ru and Michelle. We know you've got Shannon Noll giving you the dirt on what's dinky-di to make you look 'Straya!'
May the best woman, win! Source: The Guardian.
Gentleman, start your engines, cos RuPaul's Drag Race Down Under has launched with a bang greater than the one Meg Ryan was mimicking in When Harry Met Sally. Good luck ladies, and DON'T fuck it up!
For this season, it doesn't matter if you're a seasoned RuPaul Armchair Veteran or a first timer, so hunty, get on board! This is the first season featuring Aussie and NZ Kweens, so naturally, all of us this side of the equator are firmly in. The ep starts and we are told winners receive a whopping....$30K. Seriously? Is that...it? Seems a bit of a shnora prize for mine (what's that, like five drag outfits worth?) but let's get to it!
If you're new, we are on Season 13 in the USA, but this is our first 'Down Under' show. Generally speaking, you'll get 10-12 seasoned drag queens who compete to be the year's 'Drag Superstar'. Cosmetics contracts and a drag tour ensues, along with (predictably) a large Insta following, perhaps a deal to come back for Drag Race All-Stars, or Dancing With The Stars. Basically, the reality tv world becomes your oyster.
Episodes typically follow a format of mini challenge, large challenge, and what we are all here for: a fashion runway where the bottom two battle it out in a lip-sync for their lives, until we are left with a crown for the true Drag Superstar.
Got it? Good.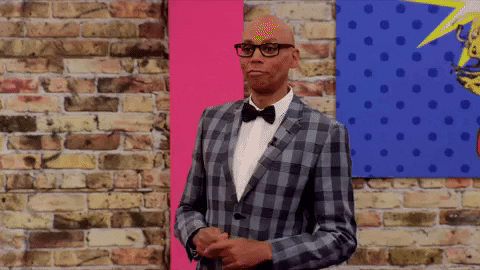 Moving on. Source: GiPHY
I decided to host a viewing party with a seasoned renegade, a few RuPaul virgins, and my dog Maple, who was fully suited up for the occasion:
Serving light-up collar realness, honey. Image: Supplied.
We were introduced to 10 contestants from varying locations around Australia and New Zealand. I have to admit, the intro isn't my fav part. It can just get a bit too catty and bitchy for my liking. Like, be witty and clever, but just fat-shaming or saying people aren't famous enough to be on feels fairly uncool and doesn't make me laugh at all. I know this is not RuPaul's best friend race, but just be clever about your snark, you dig?