Contributor
Nine Things I Would Tell My 21 Year Old Self
By Lozzy P | Contributor
Cannot unsee. Source: Freepik
I um and ah over this every year - do I organise a birthday or not (I know - one of the big questions in life). The balancing act of the thrill of being around all of my favourite people, with the anxiety that makes every 'Sorry, I won't make it' a landmine exploding underfoot, with my total inability to organise anything.
Ha...oh. Source: Quotesgram
This year is my 31st. It follows the first (only) year where I was anxiety-free-excited-enough to have organised a 30th that had to be cancelled for reasons that are obvious to anyone who existed in the last 12 months. It also follows a five-month period where I have had a heart-shredding break-up, an unexpected redundancy, and I moved house. The trifecta.
With all of this change, and the Facebook memories of 21st parties past, I've started thinking about the things I've learned and what I'd tell my younger self - that beautiful idiot had half a clue at best, and maybe there's a Gen Z out there who'd find it useful. But will probably think it's dumb. #sidepartordie
Open bars are a privilege, not a challenge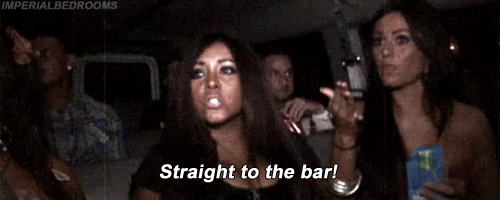 Slow it down, young me. Source: GiPHY
We all know that free prosecco tastes better than not-free prosecco, and as that sparkling passes your lips, you survey the room and do the maths - the tab will only last so long, and you're not going to be caught handing over a card until you reach kick-ons (RIP Kings Cross). Mum commented frequently enough that as a baby, you held a bottle and chugged milk at an abnormally early stage, that you're confident you can get your friends' parents money's worth. Next thing you know, your head is hanging out of the taxi (RIP taxis) as it speeds down the M2, and a treasured friend pats your hand to both reassure and gently warn you not to throw up in the car.
While your whiteline fever can be an asset (though not according to netball umpires), have a greater respect for the open-bar game. Hoarding the prosecco is only fun if there's someone else to help you bully everyone into karaoke at the end of the night. Also, drinking a weeks-worth of water during the day and taking two ibuprofen and two panadol with an Aspiro Clear-Hydralite cocktail is a champion's combo.
Boys will break your heart, but you'll be ok and better for it